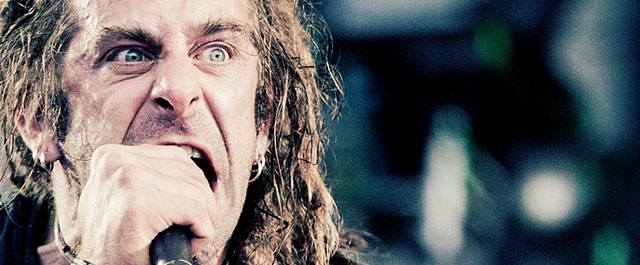 Metal Allegiance: Ascolta "Gift of Pain" feat. Randy Blythe
Metal Allegiance, all stars metal band, che comprende membri dei Testament, Megadeth ed altri personaggi di spicco del panorama musicale metal come Mike Portnoy, Randy Blythe, Cristina Scabbia, Steve "Zetro Sousa", Andreas Kisser e membri di Death Angel, Anthrax e tanti tanti altri, hanno reso pubblico un nuovo video; questa volta si tratta di "Gift of Pain", brano che vede dietro il microfono il singer dei Lamb Of God Randy Blythe. Qualche settimana fa il gruppo aveva pubblicato la clip di un altra canzone, "Dying Song", la quale vede come protagonista l'ex voce dei Pantera Phil Anselmo.
La super band consiste di un cast davvero incredibile: tanti, grandissimi musicisti, si danno il cambio in ogni canzone al fine di formare differenti e straordinarie lineup per ogni brano. Il disco, Metal Allegiance, uscirà il prossimo 18 settembre via Nuclear Blast; "Gift of Pain vede come protagonisti oltre il già citato Blythe, anche Alex Skolnick e Gary Holt alle chitarre, David Ellefson al basso e l'ex Dream Theater Mike Portnoy alla batteria.
La clip potete gustarla a fondo articolo. Qui di seguito tutti gli special guest del disco:
Metal Allegiance:
* Philip H. Anselmo (PANTERA, DOWN)
* Charlie Benante (ANTHRAX)
* Chuck Billy (TESTAMENT)
* D. Randall Blythe (LAMB OF GOD)
* Rex Brown (PANTERA, DOWN, KILL DEVIL HILL)
* Ron "Bumblefoot" Thal (GUNS N' ROSES)
* Phil Demmel (MACHINE HEAD)
* Alissa White-Gluz (ARCH ENEMY)V
* Matthew K. Heafy (TRIVIUM)
* Gary Holt (EXODUS)
* Jamey Jasta (HATEBREED)
* Chris Jericho (FOZZY)
* Andreas Kisser (SEPULTURA)
* Misha Mansoor (PERIPHERY)
* Mark Osegueda (DEATH ANGEL)
* Tim "Ripper" Owens (JUDAS PRIEST, ICED EARTH)
* Doug Pinnick (KING'S X, KXM)
* Troy Sanders (MASTODON)
* Cristina Scabbia (LACUNA COIL)
* Steve "Zetro" Souza (EXODUS)
* Ben Weinman (THE DILLINGER ESCAPE PLAN)
Qui la tracklist delle canzoni e le formazioni per ogni brano:
01. Gift Of Pain
Vocals: D. Randall Blythe
Lead & Rhythm Guitars: Alex Skolnick
Bass: David Ellefson
Drums: Mike Portnoy
Additional Lead Guitar: Gary Holt
02. Let Darkness Fall
Vocals: Troy Sanders
Lead, Rhythm & Acoustic Guitars: Alex Skolnick
Bass: David Ellefson
Drums & Percussion: Mike Portnoy
Additional Bass: Mark Menghi & Rex Brown
Additional Screams: D. Randall Blythe
03. Can't Kill The Devil
Vocals: Chuck Billy
Lead & Rhythm Guitars: Alex Skolnick
Bass: David Ellefson
Drums: Mike Portnoy
Additional Lead Guitar: Phil Demmel & Andreas Kisser
04. Dying Song
Vocals: Philip H. Anselmo
Lead & Rhythm Guitars: Alex Skolnick
Bass: Mark Menghi
Drums: Mike Portnoy
05. Scars
Vocals: Mark Osegueda & Cristina Scabbia
Lead & Rhythm Guitars: Alex Skolnick
Bass: David Ellefson
Drums: Mike Portnoy
06. Destination: Nowhere
Vocals: Matthew K. Heafy
Lead & Rhythm Guitars: Alex Skolnick
Bass: David Ellefson
Drums: Mike Portnoy
Additional Lead Guitar: Matthew K. Heafy
07. Wait Until Tomorrow
Vocals: Doug Pinnick & Jamey Jasta
Lead & Rhythm Guitars: Alex Skolnick
Bass: David Ellefson
Drums, Percussion & Additional Vocals: Mike Portnoy
8. Triangulum I. Creation II. Evolution III. Destruction
Lead & Rhythm Guitars: Alex Skolnick
Bass: David Ellefson
Drums: Mike Portnoy
Additional Lead Guitar: Misha Mansoor, Ben Weinman, Charlie Benante, Phil Demmel, Matthew K. Heafy & Ron "Bumblefoot" Thal
09. Pledge Of Allegiance
Vocals: Mark Osegueda
Lead & Rhythm Guitars: Alex Skolnick
Bass: David Ellefson
Drums: Mike Portnoy
Additional Lead Guitar: Charlie Benante, Gary Holt & Andreas Kisser
10. We Rock (DIO cover) (deluxe edition only)
Vocals: Mark Osegueda, Chris Jericho, Tim "Ripper" Owens, Alissa White-Gluz, Chuck Billy &
Steve "Zetro" Souza
Lead & Rhythm Guitars: Alex Skolnick
Bass: David Ellefson
Drums: Mike Portnoy
Additional Lead Guitar: Andreas Kisser, Phil Demmel & Gary Holt